A Geologically Formed, Open Air Amphitheater 
I finally had the opportunity to go to the magnificent Red Rocks Amphitheater in Colorado to see Steve Winwood and Steely Dan. I had never been to Red Rocks so this was a huge treat for me. Wayne has played the venue with LRB twice back in the early 80s and he was quite excited to show me the venue.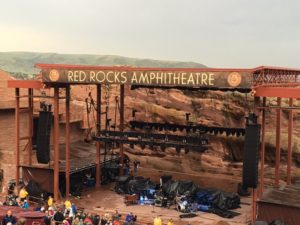 The morning was dark and stormy, but the day cleared and we thought it would be a spectacular night for the concert. As we made our way out to the venue, the sky became more and more ominous. Storms were circling but the show was going on, rain or shine. By the time we got to the top entrance, the venue had shut down and was waiting for lightning to pass to let people in. After we got inside, the rain arrived, winds came, lighting was on the horizon, and honestly I was feeling a little nervous being in the bowl with so many people and no easy way out.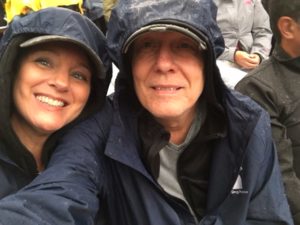 Steve Winwood took the stage and got three songs in before the show was shut down again. Not soon after he walked off stage, the skies opened up more and the rains came down hard, along with hail, pelting everyone in its path. Not a good feeling in my flip flops.
We opted to leave but heard it cleared enough for Steely Dan to play. Sad to say we missed seeing them, but I was more than happy when we got back to the hotel and I could get into dry clothes and get warm. Despite the rough weather, I must say I was in awe at Red Rocks! I've never seen anything so stunning. It's such a magical place to hear live music, sitting among rock formations so majestic.