Glynnis Campbell Wears Many Hats
When we are on a music cruise, we are fortunate to spend time not only with fans, but other artists and their families as well. That was the case when Little River Band was a part of the 70's Rock and Romance cruise this year.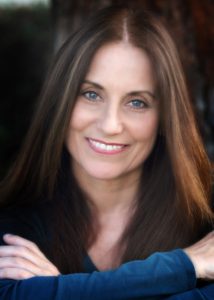 America was one of the groups performing and I was able to have Glynnis, wife of Rich Campbell, bass player, share a little insight into her life with Rich. Getting to know both artist and their spouse is always a treat. More often than not, if a show consists of multiple artists, there's little time to enjoy their company and many times their spouses aren't on the road with them. Having that extra time to get to know them on the cruise is special. In speaking with Glynnis, I learned she's been a ballerina, a typographer, a film composer, a piano player, a singer in an all-girl rock band, and a voice in video games. Here's what she had to say about living life with a touring musician.
RHONDA: Did you really have any idea of what you were getting into before you became the wife of a musician?
Glynnis: I had a good idea of what to expect from the music life because Rich and I were in bands together for years! Though I gave up my own music career and moved into writing, I've always understood the creative passion that drives a person to pursue the arts. It's a given that you'll always share your partner with another mistress—his or her Muse.
I knew Rich would be on the road a lot, though fortunately, it was almost never for more than a few weeks at a time. I knew we'd sometimes have to celebrate holidays on a different schedule. I knew his hours would be messed up from traveling. But there was no way I was going to stand in the way of his dreams, and thankfully, he feels the same way about mine.
RHONDA: Do you have children and if so, did you make the decision to stay home and take care of them while their dad toured? And what were the challenges when traveling with kids on the road?
Glynnis: We have two kids. Taking them on the road was never really an option. They were happy in school and I was working part-time. But since Rich wasn't going on six-month-long tours, his being gone for three or four days every week wasn't a big issue.
When he was home, he was HOME, spending a lot of quality time with the kids. Doing the math, he probably spent the same number of hours with them as dads who have 9-to-5 jobs. I don't think it had a big impact on the kids. I remember my son asking me once, "Is Dad in bed or Texas?"
RHONDA: Were you a fan of his or the band before you met?
Glynnis: In high school, Rich and I were in a cover band together. Two of our favorite songs were "Horse With No Name" and "Sandman." When we got married and combined our record collections, the only LP we had in common was America's Greatest Hits. He was in other bands along the way—Natalie Cole, Three Dog Night, Edgar Winter, Chuck Negron, Dave Mason—but when Dave warmed up for America, I told Rich I thought he should be the bass player for that band. A year later, he was!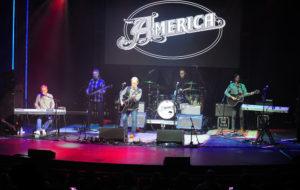 RHONDA: Are you ever part of his creative process? How?
Glynnis: Probably what I do to contribute the most to his creative process is stay out of his way and give him space. If he asks my opinion, I'll always offer it, and I like to think our life adventures and philosophical discussions inspire him in some way. But mostly I just understand and respect his Muse and leave him to it.
RHONDA: Your husband's band has a place in music history. Do you feel that you share in that?
Glynnis: I feel totally honored and amazed to be part of his musical family. Once in a while when I'm hanging out backstage or on the tour bus, Younger Me has to pinch myself. Never in my wildest dreams would I have believed that I'd one day be friends with America. That my high school sweetheart and husband is touring with the band is nothing short of awesome!