Our Version of a Writers in the Round Event
If you follow me on Instagram or Facebook, you've probably seen that myself, Wayne and Greg (guitarist for Little River Band) have been doing book events to promote my book, A Different Life.
We came up with this unique concept just before the book was released last December. Wayne and Greg do acoustic versions of some of LRB's hits, along with doing other songs that are pertinent to the book and the stories in the book. In between the songs I tell some stories about our life on the road and some of the crazy things we get into while not only on the road but at home as well.
Greg joined LRB in 1999 and that's the same year Wayne and I met. A friendship was immediately formed between he and Wayne and once I met him, well let's just say we always joke that we are brother and sister from a different mother AND father. Crazy, yes, but we are both alike in many ways.
We had the opportunity to do one of our events at Two Old Hippies in Nashville and what a FUN evening it was!!
The day before the event, we spent time with the folks at Hippie Radio and Acme Radio Live talking about the event and all things LRB. It's a new thing for me to sit on behind the mike right alongside Wayne and be interviewed and I must say, "I kinda liked it". It's also quite different for me to be up on stage with both he and Greg but oddly enough since the first one of these events, I never was nervous.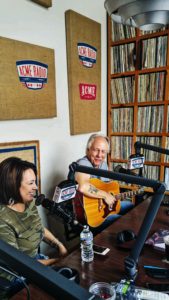 On this particular evening at Two Old Hippies, we had a unique surprise. One of the chapters in my book is all about our time or owning a historic inn, wedding facility and restaurant in Flat Rock, NC. Five of the ladies present that evening were from  Flat Rock and had been in Nashville for a girls weekend. They had been shopping at Two Old Hippies and saw the information about our event and extended their stay by one day in order to come to the show. One of the women lived in the community directly next door to the inn and had been there both times when LRB had played out on the lawn. Imagine their surprise when they thumbed through the book and saw themselves in a photo of the crowd from one of the shows on the lawn.
It was such fun having them be there and I must say, you never know when and where you are going to meet someone that knows you in some obscure way. Stay tuned to my website for more dates and cities where these events will be held. And feel free to drop me a note and request to host an event. We'd love to get to your area of our great country.
PS you can purchase my book, A Different Life here.