A Writer's in the Round Type of Event at Florida Wineries
We've just wrapped up an amazing weekend of my book/music events at two Florida wineries. To say I had an awesome time sharing the weekend with so many wonderful people is indeed an understatement. There's been so many (good) thoughts running through my mind since we've gotten home and I am still reeling from the experience.
When my book, A Different Life, came out in December 2016, we (Wayne and I) put together a way that we would incorporate Little River Band's music and my book. That concept was to do what in Nashville is called a writer's in the round type of event. This is typically where songwriters sit around and perform, almost always, acoustically, the songs they have written. Our event is basically the same except that instead of me singing a song(s) that I've written, I tell stories about our life on the road with Little River Band and we incorporate some LRB songs, along with other songs that are pertinent to the book and our lives.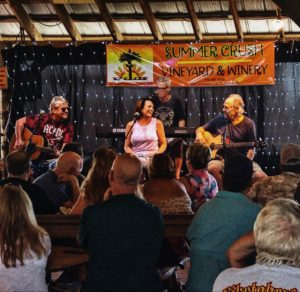 We've done many of these events since December and all but one were private events. This past weekend, both events were open to the public. Saturday we performed at Summer Crush Vineyards and Winery in Fort Pierce, FL and on Sunday at Keel and Curley Winery in Plant City, FL. I was overwhelmed at the response to the events. In both venues the crowd was incredibly welcoming and enthusiastic to be there. Having lived in South Florida in the late 80's through early 90's and living here again, I had no idea that there were wineries in the state. Not only did I not know there were wineries, I didn't know the wine would be so palatable.
Sitting on the stage with my husband, Greg and Chris (guitarist and keyboard player with LRB) is such a surreal feeling. I have a hand in the behind the scene, day to day operations of Little River Band and at shows I'm usually side stage or occasionally helping out with merchandise. Performing on stage was something I had never done until we started doing these events. Actually, when I first meet someone I'm a little on the shy and quiet side. Of course, once I get to know them, that thought has flown out the window.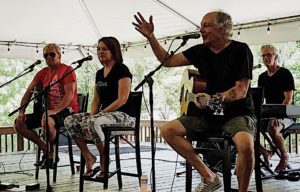 I came away from the weekend believing in the quote, "great things never came from comfort zones."