Sitting on the Same Side of the Stage
It's not often that Wayne and I get to enjoy a concert together. Usually, he's working and I'm either out in the crowd with friends or taking pictures side stage. Tonight was different and we got to enjoy the songs of two great bands with both have loved for years, Tears for Fears and Hall and Oates.
The night was filled with hit after hit and the crowd lulled at any point in the evening. It truly was fun to hang out at a concert with my love, signing along to songs that were part of our past. Although Wayne and I didn't know each other at the time most of the songs were hits, we certainly had fun remembering back to those days and swapping stories.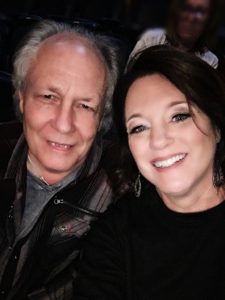 John Oates has a new book that recently came out, Change of Seasons: A Memoir. Richlyn Marketing is the PR firm that is representing him on this project and it just so happens they are representing a few projects that myself and Little River Band are involved in as well. It never hurts when you share a mutual working relationship with someone and we were so fortunate to be able to attend a reception with John held after the concert.
If you are a fan of either of these awesome musical acts and the tour is stopping anywhere near you, I highly recommend you put this on your list of "must attend" summer concerts.