Feeling Blessed to Celebrate Independence Day at Home this Year
I don't know about you, but July 4th always signals that summer is in full swing and brings to mind visions of families at the beach, sandcastles being meticulously built, hamburgers, hot dogs, bar-b-que, potato salad and cole slaw all waiting to be consumed and of course fireworks. This year as the holiday approached, those visions were no different. Most every year we are on the road with the Little River Band tour and July 4th is a work day for us. The day is precisely mapped out and those vision stirred up by the holiday itself are stored away for another year.
This year was different! For a little over two weeks, we've been off the road and at home on a little break. I found myself a little at a loss with what to do with myself. On one hand, I felt the urgency to do projects around the house and yet I also felt the tug to go and enjoy the beach. After all, we live a mere 5 minutes down the road from one of the most stunning beaches in South Florida. Fireworks and food had been covered since we had accepted an invitation to a friend's home for the evening to view our city's firework show. There was so much delicious food and Delray Beach had a firework display to rival Magic Kingdom's. But, the day still felt odd because we had made no plans to go to the beach.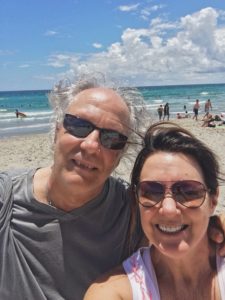 I wasn't going to let my urge to complete yet another home project take away from us being able to enjoy some of the activities Delray had going on to celebrate July 4th. One of those activities in particular had piqued my curiosity. Off to the beach we went to view all of the sandcastles that had been created for the sandcastle building contest. The beach was filled with families, many of whom had been there since early morning, creating their masterpieces. It was hot, but the ocean breeze was keeping things tolerable and the waters, while a bit rough, were the deepest of blues. We stayed long enough to soak up some sun, breathe in the salt air, and enjoy the sights before we had to get back across the bridge due to the city closing the road to vehicle traffic in preparation of the evening's fireworks extravaganza.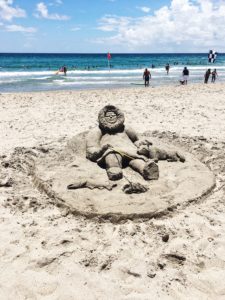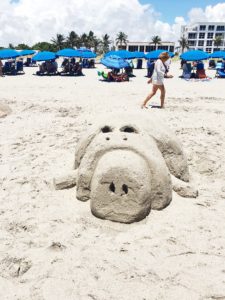 As we walked back to the car feeling refreshed and feeling like I had really participated in a 4th of July tradition, I realized how relaxing, mind clearing and invigorating the beach can be and how we never take the time to enjoy what is literally in our back door. Right then and there I vowed to force myself to take time and go to the beach. A thought hard to put into action, yet one we should all remember; it is perfectly acceptable to take time for ourselves, relax and clear our minds in whatever space or place works for you.
RHONDA RAVES:  If you're looking to get a head start on your July 4th, 2018 plans, I highly recommend planning a vacation to Delray Beach, voted Most Fun Small Town in America by Rand McNally and USA TODAY 2012. Book your room at Marriott Delray Beach or The Seagate Hotel & Spa and you will have an unobstructed view of the fireworks display right from your balcony. They sell out quickly.