Fall is in the air! I get excited about finding new recipes when this time of the year rolls around. I'm sure part of this is due to the marketing gurus flooding our senses with phrases like "pumpkin spice," "apple cider" and "mulled wine." They do their jobs well and I set out on my search for new creations to try.
Associating "vintage" and "glamorous" with fall, I went on a search for a new sophisticated cocktail to try. Having had my fair share of citrus with my beloved vodka gimlet over the summer, I wanted a drink any bartender could make. Something simple and classic, yet just a bit outside the box.
I have always been intrigued with a Manhattan. It's made with whiskey, shaken and served in a dainty stemmed glass. Vintage without a doubt, and classy. But I wanted to find a new take on the original. My search revealed many variations, none of which made me want to turn cartwheels.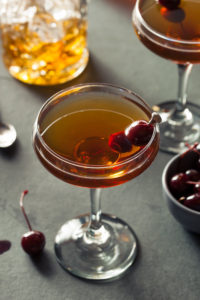 I had resigned myself to proclaim the original Manhattan, made with Blanton's Bourbon, my drink of choice for the fall. While doing research for another project I stumbled upon A Spicy Perspective where I found a recipe for a Spiced Manhattan Cocktail. This is the best Manhattan I've tasted in a long time.
SPICED MANHATTAN

2.5 oz. Hennessy (or your favorite brand) cognac.
7.5 oz. Infused vermouth** see recipe below
Dash of angostura bitters
Twist of orange
Sprinkle or shaved nutmeg

For each cocktail
Pour infused vermouth and bitters into a shaker. Add ice and shake well. Pour into a stemmed glass. Add a twist of orange and sprinkle or zest of nutmeg on top.

**Infused Vermouth
2 cups sweet vermouth
1 teaspoon allspice
cinnamon sticks
2 whole cloves
1 dash cayenne pepper
1 dash sea salt

Heat vermouth to just before boiling. Add all dry ingredients. Turn off heat and cover with lid. Let steep for several hours.
Pour through sifter into empty glass container and store airtight.