Look at all the beautiful hats!
I have been giddy with excitement preparing to attend what is known in my hometown of Nashville as the opening of the social season – the Iroquois Steeplechase. It is simply "the event."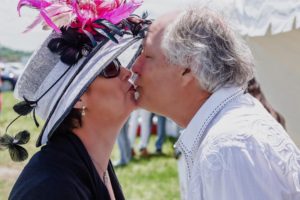 This year marks the 75th anniversary of the Iroquois Steeplechase. I hadn't been to the event in 25-30 years. Honestly I can't remember the year that I was last there. What I do remember is being a young person going to the event with blankets and coolers and just hanging with friends out on the lawn. We didn't care if it rained, was muddy or cold. We all just considered it another excuse to be carefree and have fun.
The Iroquois Steeplechase is run by a nonprofit organization, The Volunteer State Horsemen's Foundation, whose primary beneficiary is the Monroe Carell Jr. Children's Hospital at Vanderbilt. It has received more than $10 million over the years. Held at Percy Warner Park on the second Saturday of each May, it has been dubbed Nashville's rite of spring since 1941.
Wayne and I were invited by Radian Partners to join them at their tent in the Tents in the Turn area. This is a private patio area that allows for a trackside view of the races, complete with linen clothed tables, chairs, catered food and attended bar. Although it was a little chilly in the beginning, the sun came out, the blue sky appeared, juleps were enjoyed by all, old friends reacquainted, and new friends made. What wasn't to love about this day?